Regular price
$336.65 AUD
Regular price
Sale price
$336.65 AUD
Unit price
per
Sale
Sold out
SEGNO has an intermittent nebulization technology that autonomously alternates working and rest phases. It transforms the essential oils of NOTA2 in a delicate mist that adds character to your spaces. Elements: VASE in 100% natural terracotta suitable for containing flowers or succulent plants, making the design of SEGNO unique and personal. birchwood BASE. Natural, durable and resistant material. Customized with the OWAY logo in a beautiful bronze colour. CABLE covered in fabric. CRUET in glass. It has a wide neck, useful during filling, and another narrow one that is housed in the base. During operation, it is illuminated by a warm and delicate light. PIPETTE in glass, to take the product from the bottle and pour it into the cruet supplied with Nota2. It is supplied in the Nota2. kit (product to be purchased separately) KNOB in metal. By rotating it, you can adjust the intensity of the fragrance.
Use
Take Nota2 from the bottle with the dropper pipette (the pipette dropper is supplied with the purchase of Nota2) Pour the drops into the SEGNO glass cruet. Place the cruet in the special housing on the base. Connect SEGNO to the socket. Activate SEGNO through the knob and select the desired intensity. Let fragrance spread three times in an hour (10 minutes active, 10 minutes rest) and the quality of your rooms will immediately increase.
Share
View full details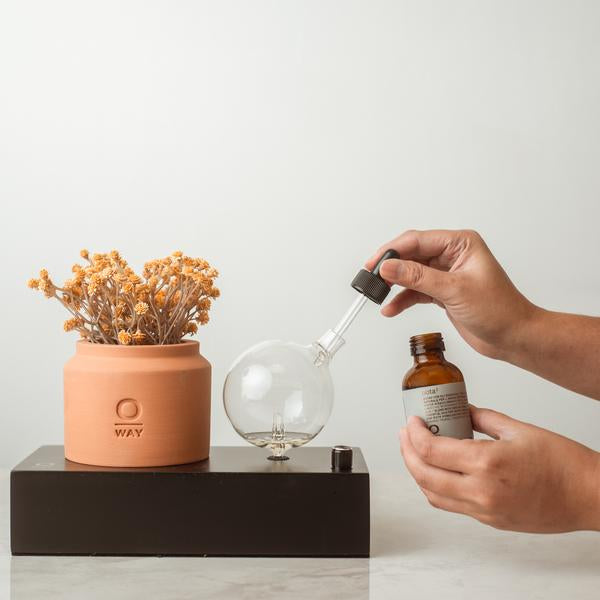 You may need a dispenser/pump!
We're Transitioning to Aluminium Lids.
This means some of our products are coming with pumps and others have already switched to Aluminium lids.

If you're already an Oway customer we encourage you to reuse the pumps you already have.
Alternatively, you can purchase a pump here.
Why Aluminium? Aluminium is elegant, natural, extremely protective and corrosion-resistant.
But most importantly Aluminium can be recycled an infinite amount of times.
Plastic can only be recycled up to three times.
This is a huge step forward in reducing waste!

Less pumps = Less plastic waste = A win for the planet
SHOP PUMPS