Our company's broad experience (over 70 years of formulations) demonstrates that it is possible to obtain products that offer excellent results without the use of aggressive substances, relying on formulas that improve the capillary and skin structure in a concrete manner, from one application to the next, through the use of concentrated, versatile, professional and pleasant blends.
The name Organic Way (Oway) has a very precise meaning: it is a way of approaching everyday life and of approaching cosmetics. We start from an eco-design mindset based on 100% sustainable standards, immersing ourselves in the healthiest green options available, minimising the impact to our plant and putting all this together with quality, innovation and every day design, in every choice and action we undertake, starting from the company itself.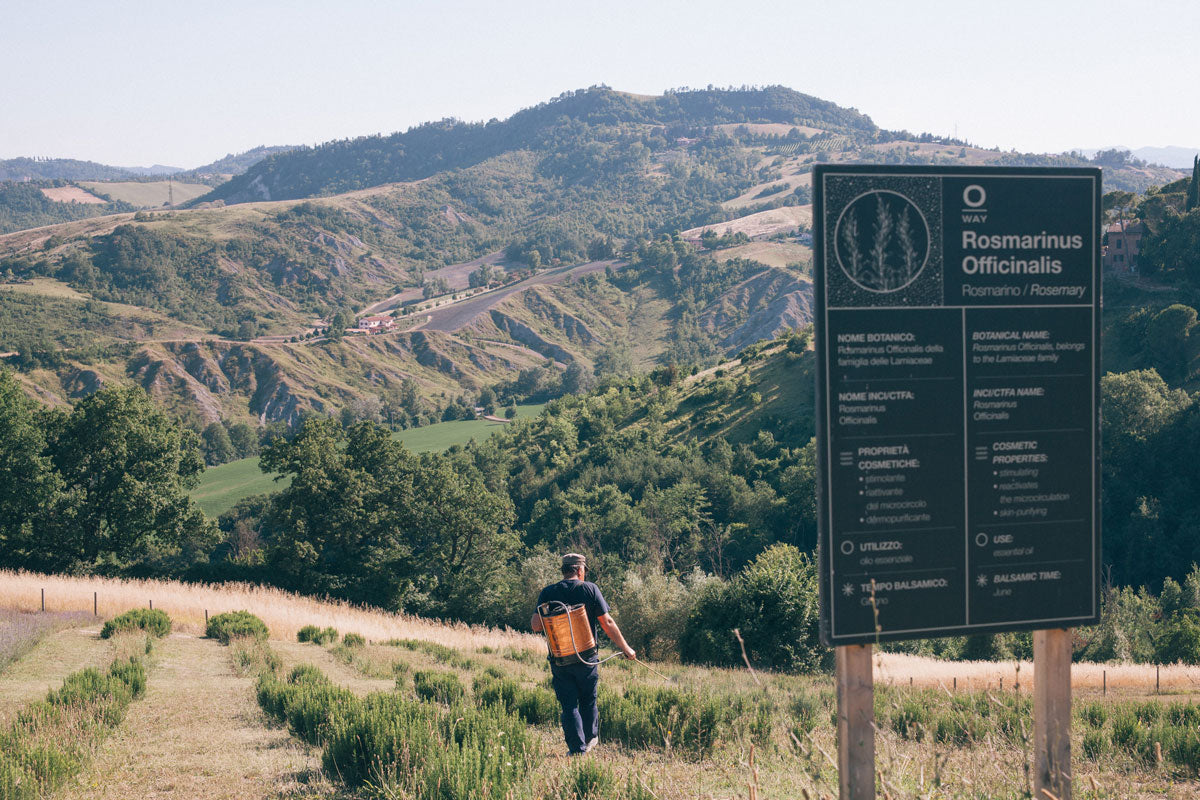 ORTOFFICINA | 50.000 SQUARE METERS OF LAND WHICH WE FARM ACCORDING TO THE BIODYNAMIC METHOD
Aware that it is only from a healthy and vital soil that plants rick in antioxidants and active ingredients can grow. We use only biodynamic methods in our Ortofficina farm on the hills of Bologna to grow officinal plants, shrubs and herbs which become the ultra-performing complexes of the 0km essential oils, extracts and hydro-lates of our formulations.
The biodynamic method is the purest and cleanest type of cultivation: free from the pesticides, herbicides, insecticides and synthetic fertilisers used in conventional agriculture, it allows obtaining the most concentrated and effective active ingredients, while respecting the ecosystem. Rudolf Steiner, founder of Steinerian Medicine, Waldorf Pedagogy and father of Anthroposophy, after having observed a decrease in soil fertility due to the excessive use of chemicals gave life to biodynamics in 1924.
- We work to ensure the restoration of the land and the renewal of agriculture by keeping the land fertile, crop after crop.
- We have abolished the use of synthetic fertilisers, chemical pesticides and herbicides.
- We follow cosmic and moon cycles in the various cultivation phases according to a precise astronomical calendar.
- The farm is perceived as a living organic unit where several other organisms that make it up (forest, meadow, fields, animals, plants, hedges, fruit trees, insects, compost, earthworms, etc.) work in harmony, vivifying it through their different ecological functions and making the system dynamic and productive. 
- The farmer has a role of great responsibility. They must manage all aspects of the farm (climate, annual rainfall, sun exposure, soil, plant species, etc.) and observe the interaction between all living being present.
Agricosmetics
Agricosmetics means growing zero-mile plants, flowers and medicinal and aromatic shrubs on our Ortofficina estate, on the hills of Bologna. It means choosing the biodynamic method - the healthiest and cleanest, which does not require the use of chemicals - to obtain pure, ultra-effective essential oils, hydrolates and extracts that become active ingredients in Oway treatments.
Agricosmetics is packaging Oway formulas, rich in natural ingredients, only in glass and aluminium, precious, protective and completely recyclable materials. Agricosmetics means eliminating plastic, which is highly polluting, and unnecessary and superfluous packaging and making the necessary tools exclusively in eco-sustainable paper, wood, metal, cotton: natural materials that convey authentic sensations. It means using renewable energy for business processes to reduce the environmental footprint.
Agricosmetics is creating concentrated products, rich in active ingredients so that, in the salon and at home, they are used in the right quantities, thus avoiding waste.
Agricosmetics is a way of thinking, a way of life, a conscious choice. It is putting care, conscience and attention in every choice and action, and creating quality products that respect environment and people.
We're a Carbon neutral Company

We cancel 100% of the carbon emissions generated by our company through eco-design, the use of 0 Km raw materials from organic and biodynamic agriculture, virtuous production processes, the use of renewable energy, the choice of sustainable packaging and materials, offset projects.

What does cancelling CO2 emissions mean?

It means that we have revised and improved all company processes in order to minimise CO2 emissions released into the atmosphere. The inevitable residual quota of CO2 is zeroed by investing in projects which neutralise it in equal amounts.

Which phases are balanced out?

The Oway initiative involves the whole supply chain. That's why we're proud to call ourselves a CARBON NEUTRAL COMPANY.

How does the process work?

Through a specialised company, we analysed the entire product life cycle (LCA) and, for each phase, we calculated the amount of GHG (Green House Gases) emitted: then OWAY took steps to improve, to zero and to offset that footprint. In order to achieve these goals, it was necessary to modify some processes by acquiring new, more sustainable strategies, optimising materials and procedures, thereby reducing or cancelling the carbon footprint of the various phases. 

Emission reduction projects

For the CO2 quotas that cannot be cancelled with our internal processes, we finance verified emission reduction projects. These investments support environmental projects in developing countries. 

Why is it so important?

Oway has always been aware of its impact and has always been actively engaged in reducing its carbon footprint. We believe that if we all work together towards a positive change, we can make the world a better and healthier place.

We love animals

For European Union producers, animal testing has been prohibited since 2004 in cosmetics and since 2009 for raw materials. The expression WE LOVE ANIMALS communicates our ethical commitment, such as the company's decision not to export Oway products to countries where there is an obligation to test the products on animals.

All our products are Cruelty free PETA certified, the world's largest animal rights association. The bunny symbol that we put on each product certifies that our formulas are VEGAN, which means that they are free of components of animal origin, and that no tests have been carried out on animals.

Sustainable palm oil

To ensure maximum sustainability, Oway has chosen to support the Non-Profit Roundtable on Sustainable Palm Oil (RSPO), whose objective is to promote the cultivation and use of certified sustainable palm oil.

By acquiring credits from RSPO, Oway not only supports and guarantees the cultivation of the palm and the production of sustainable and certified palm oil, but also preserves territories from deforestation, ensures a fair pay for workers and local communities, protects the habitat and replenishes green areas. By joining the RSPO project, Oway protects the ecosystem from massive deforestation and fully balances out the environmental impact of its ingredients.

The company has obtained the DOUBLE ISO 9001 + ISO 22716 INTEGRATED QUALITY CERTIFICATION. This distinctive guarantee within the panorama of Italian cosmetic production and international marketing, offers a quality management system according to the highest control standards. The integrated architecture of the double certification adds rigorous requirements on product control and on the manufacturing process, attesting to the consistency of our brand values.